Call Today
(855) ROBOT-99
or
(855) 762-6899
industrial Control panels
Welcome to Bransom Tech Services of Lodi California
BTS is not just another great electrical contractor,
we design and build automation solutions using robots, too.
We build Industrial Control Panels
Since 1973 we have been building control panels for industrial manufacturers across the United States. our central belief when building a great control panel is the use of a "Maintenance-Centric" design. Our panels are easy to understand, clearly marked and use the highest quality components available. We have all been maintenance technicians and know the importance of having a panel with a lot of room, clearly marked wiring and easy to replace components. This "craftsman approach" to building industrial control panels is what makes our panel building shop better than the others.
What is an Industrial Control Panel?
NEW!! Request a quote for a control panel
The panels we build here at BTS are built to the highest standards, going above and beyond NEC requirements. Our inspector confirms that our panels continue to meet the requirements with the use of the manufacturers documentation. Our records, our tools and testers and our procedures insure our customer's panels and equipment are built to the highest degree of safety possible.
Built for Safety? SCCR = Short Circuit Current Rating. What does it mean? A well designed panel will trip a breaker or blow a fuse in the event of a Short Circuit. The bottom line of a well designed panel is SAFETY FIRST. If you ever had a device short out before your eyes, then the SCCR rating of the Upstream Circuit Interrupter was sized incorrectly. Having the BTS Panel Shop build your controllers means not having to worry about that happening. You have my guarantee. Jerry Bransom – President, Bransom Tech Services
A wide range of quality vendors that best suit the application requirements.
Schneider
Eaton / Cutler Hammer
Siemens
Allen Bradley
Omron
Joslyn Clark
ABB
Turck
Banner
Pepper-Fuchs
Keyence
Sick Optics
Kawasaki Robotics
Fanuc Robotics
Rockwell Drives
Baldor Motors
Yaskawa Drives
US Motors
Leviton
Honeywell
Westinghouse
Appleton
Micro Switch
Cooper Crouse-Hinds
What does it take to build a controller for a customer? We use a 6-step approach. Based on your information and existing drawings, we can design your controller. We can also build your panel from your own blueprints. In many cases we will build a prototype panel for testing. This is more common on panels where we are integrating parts of a machine or replacing an existing panel with an upgraded version. Upgrading panels to a modern version is common where the customer wants a more visual environment such as an HMC or PC controller.
HMC and PC controllers have the advantage of integrating costly devices into the PLC using commonly included I/O such as high speed counters, encoder inputs, analog inputs and outputs, serial communication such as ProfiNET and Data Highway and Ethernet-based networking.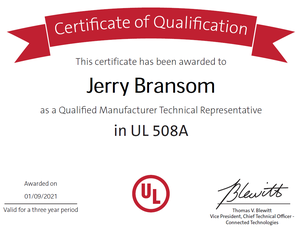 Beginning this year, we are required to have a Qualified Manufacturer Technical Representative "in house" to supervise the building of UL-508A Industrial Control Panels. This is a very hard test that insures our panels are built to the safety expectations of Underwriter's Laboratories standards.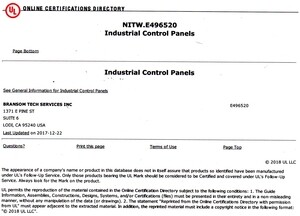 .
If you lookup Bransom Tech Services, this is the certificate you will find on the UL website. See for yourself. Visit the Underwriter's Lab IQ Database to find our firms registration for both the USA and our certification for Canada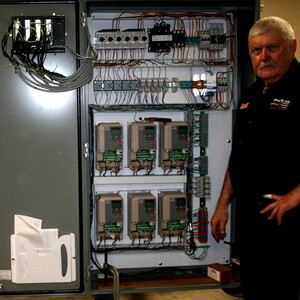 Building an approved panel prototype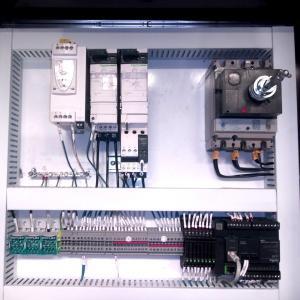 Panel testing and final approvals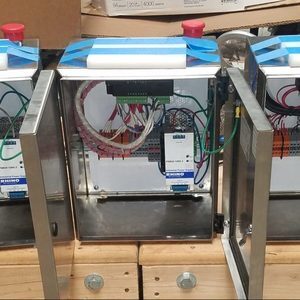 Panel Production Line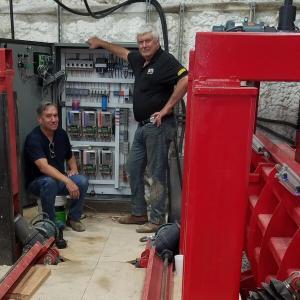 Machine Control Panel
This panel is programmed with our HMI/PLC. In this panel we are controlling 6 motors, 6 rotary encoders, current temperature and a series of pneumatic solenoids. This system replaced a very expensive and high maintenance hydraulic system that had been operating this machine in the past.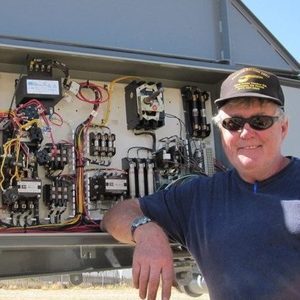 .
Portable Conveyor Control Panel
We had to rebuild this panel in the field for this customer. Features a multi-voltage (480/240/208) panel we are controlling 2 motors that can be run by either High Voltage or Low Voltage. We included forward and reverse controls and added a motor to replace the hand cranked lift angle adjustment device.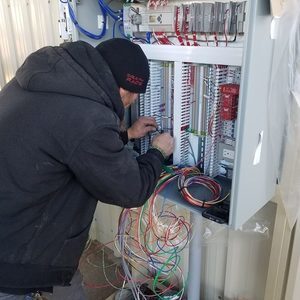 .
Batch plant control panel
We are wiring this panel in the field. We added several additional controllers, junction boxes, panels and support equipment into this integrated control system. It is common for our field technicians to go onsite and install equipment, integrating with the customer's equipment.
Latest Controller Version 6
One of the eight new controllers designed as an IP66 solution for this version of the AEB Yeast Regeneration machine. AEB products are for the treatment and sanitization of industrial areas. AEB's range of equipment includes equipment for dosing and rehydration of yeasts.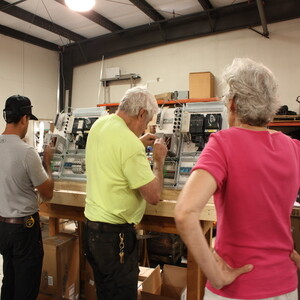 Panel Hardware Assembly Station
We stand the panels up so they are comfortable to work on and here, We are populating the din rail with Schneider terminals, breakers and starters. We are using Rockwell PLC's on these panels along with a Phoenix network controller and an IO-Link module for the peripheral equipment.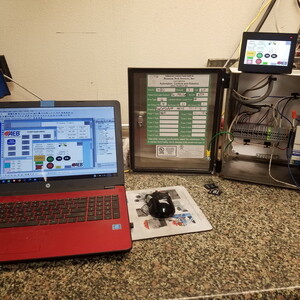 Loading the program and test
Once the controller is wired and ready, we move it to a test area and upload the program. Our test bench tests all Analog signals, High Speed counters, Discrete I/O, Networking and other communication links. If the controller passes QC, we put a UL Label on it and box it up.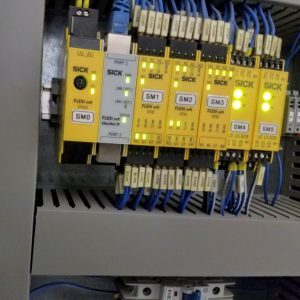 Ethernet/IP Bridge
EThernet/IP (IP Over Ethernet) is a simple and popular way to map the Inputs and Outputs of one device with another. In Human Terms, we translate languages between machines that use different programming conventions to operate. This is the primary way a Robot signals a Conveyor System and vice versa.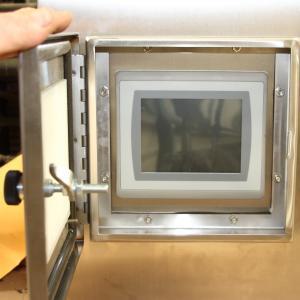 .
IP66 Custom HMI Panel
We design many types of controllers. Here is an IP66 panel with a cutout for HMI. One problem with panels that include an HMI is the wear and tear on the screen of the panel. There are various types of screen protectors available for HMI Screens but none of them compare to this type of protective door we use on our IP66 rated Indoor/Outdoor controllers for harsh conditions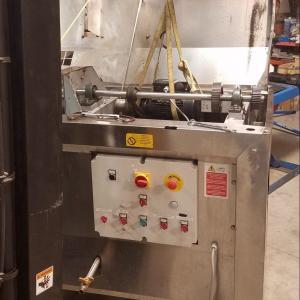 .
Olive Press Controller update
We take in equipment regularly to upgrade and update the electrical parts of the panels. Particularly in the Wine-making business, the atmosphere is caustic if the panels are not well sealed. Here is an Olive press with an IP66 control panel that was compromised. We repaired it, cleaned the machine and performed maintenance on the machine here at our shop.