Electrical Contractor
INDUSTRIAL ROBOTS

FACTORY AUTOMATION
Welcome to Bransom Tech Services
We are a licensed electrical contractor, designing and building robotic and automation solutions
Electricians, Robots and Automation for your business
BTS Adjustable Side Gripper for Flat Side Products
SG100-2717 Smooth Side EOAT Gripper
Custom built side gripper for boxes or bales
We manufacture and build a variety of machines here at BTS. One of our machine groups are EOATs for robots. End Of Arm Tooling is a necessary part of building robot solutions for the many types of processes we deal with for our customers. This is our Side Gripper EOAT for flat side boxes and bales
This is our Side Gripper used to pickup flat sided heavy objects. It has many of the "Maintenance-Centric" features of our other tools and machines. This tool only requires a few pumps of grease on a regular bases to operate for years. The side plates come in many sizes and it can pick up to 100 pounds per lift.
Since this is a 2-zone gripper, it can also pick is 2 zones if required for smaller boxes. The cylinder floats to extend the life of the tool and has adjustable pressure. Each of the 4 cylinders can be controlled as an independent zone for shifting products side to side. Maximum opening is unlimited, minimum opening is 10 inches. The range of opening on this tool is 10 inches in this configuration
Call 855-ROBOT-99 for information
BTS Adjustable Side Gripper for Flat Side Products
BTS SG100-2717 Flat Side Gripper
SG100-2717
 Robotic Palletizing/Depalletizing Pickup Tool
Tool is shown with stripper cylinders installed with 4G SY5K SMC Manifold
27×17 inch width range tool is for moving objects such as bales or boxess
The modular design of the tool makes it easy to create any size
This tool is designed to work on a 180kg robot or larger

Just tell us the robot you want it mounted to

Each unit is repairable and modular

Side Gripper EOAT for flat side boxes and bales


Heavy duty pneumatic cylinders provide 4 zones of gripper power for flat side products

Air and Power are connected here on the top of the tool. A precision regulator is provided to adjust the side pressure of the tooling

Modular mounting system shown along with mounting flange spacers and linear bearings create a maintenance-centric solution for picking heavy objects.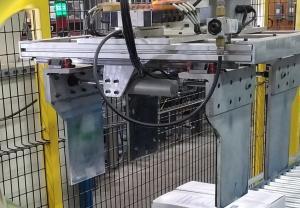 671 total, 14 today