Call Today
(855) ROBOT-99
or
(855) 762-6899
California robotics
gallery of current jobs
Welcome to Bransom Tech Services of Lodi California
BTS is not just another great electrical contractor,
we design and build automation solutions using robots, too.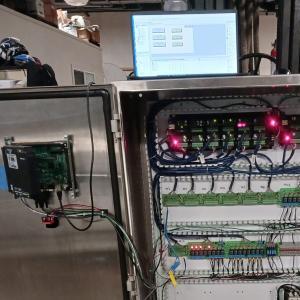 2022
We are building a controller for a new winery with a very large tank farm of more than 20 10,000 gallon tanks. Our controller will monitor the glycol system, chiller system, tank temperatures, cooling valves and is accessible from your smartphone.
Here we are showing the main control panel and HMI. The PLC and associated modules and terminals are inside.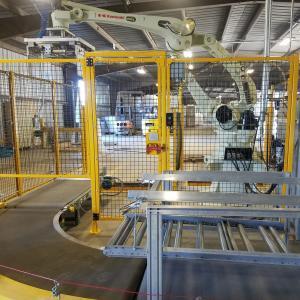 2022
With labor costs rising and medical costs soaring, the last thing you need is an employee with a hurt back. Use of a palletizer like this one will help keep people safe and costs under control.
Here we are showing the first palletizer of 2022 we installed for a customer in West Sacramento. Anyone traveling along I-80 west of Sacramento will pass by this palletizer as they pass the rice fields
2021
Production line building machine controllers for extruders. These controllers operate a very large machine with 7 motors.
Here we are lowering the backboard into the enclosure. It is easier to build the backboard of a UL Approved panel and then once finished, you lower it into the enclosure. This model is using WEG CFW-08 frequency drives for all of the motors.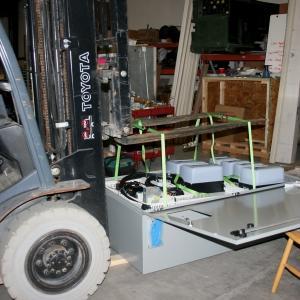 2021
Our SG100-28 Side Gripper for square bales and large boxes. This gripper has a range of from 30 inches to 6 inches of grip width.
This tooling is being built with THK linear block bearings. The HSR35 linear bearings and rail support weights of over 200 pounds per lift. With its adjustable grippers the range can be changed quickly for re-tasking. Other than the grease zerts on the HSR, this tooling is maintenance free. In dirty environments, the tool can be disassembled and washed very easily.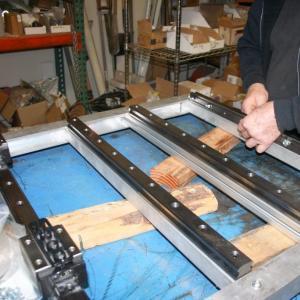 2021
Installation of the LP120 Long Product Packaging machine we developed here at our office. This machine is designed to erect cases and place object of up to 120 inches inside the box then send the box to a strapping machine
This particular robot is a "Wall Mounted" Kawasaki RS020N robot. The RS Series of robots can be mounted Floor, Ceiling and Wall plus other arbitrary angles. The issue is how the gearbox is lubricated and we think the Kawasaki RS Series of robots have the best design for this type of application
2021
This year we have sold many palletizers to customers in the area looking to reduce costs and solve labor issues. Here are some of the bases we have fabricated for these robots. Our standard base supports robots up to 700KG capacity.
We build solutions using our custom fabricated tooling, our fabricated bases and our designed and fabricated support equipment for your production application
2020
In our area, olives are an important part of the farm income for many families. We have several customers that are Olive producers and either turn their olives into olive oil or if the olives are large, they get bottled. We work on many types of equipment used to process olives. In Lodi, we have the best olive oil in the country. In this area, it is known as Gold Coast Olives and the variety of olives is staggering.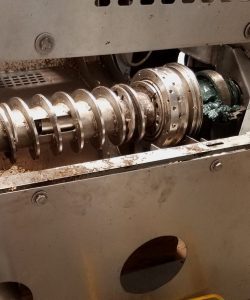 2020
While we do not sell many of them, we are the ones most people in the area call when they have a robot that breaks down. We can troubleshoot and repair many types of robot doing many types of applications. If you have Kawasaki, Fanuc, MotoMan, KUKA, Epson or others, we can work on them. Troubleshooting them and doing 10,000 hour maintenance are a primary source of our work here at BTS
2020
We recently began development on a new type of robot. The Kawasaki duAro uses dual scara robotic technology which is very close to the upper human torso. These collaborative robots are safe to deploy among employees. Utilizing Cubic-S technology, they are collaborative with soft foam cushioned arms and tooling. They are designed to help increase production and come enabled for vision, networking and tracking.
This particular robot is working with a packaging machine to place medical test tubes directly from the production machine to the rack. Employees were doing this by while sitting at a table and picking the individual tubes by hand to be placed in the rack. This Kawasaki duAro robot can put 4000 per hour into a rack. our machine delivers the rack and the product.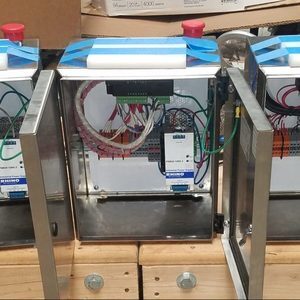 2019
We recently began building modern UL508A controllers for AEB Bio-chemical. Used on their powerful brewery and winery pump carts, they take fluid transfer to the next level of technology. Our pump controllers can work with each other for multi-point blending applications or work well as a stand-alone pump. They have event tracking, wireless control plus many additional features you would need on a transfer pump
2019
Beginning last year we began development of a new factory in Galt California. The facility uses "State of the Art" block production machines invented by the owners and is shifting the paradigm of construction techniques as well as reducing the overall costs of building with concrete.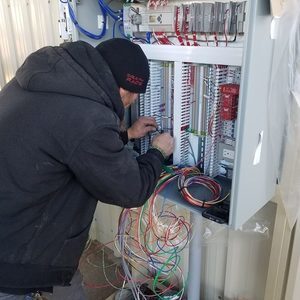 2019
One of perks of living in the farm belt of California is working for many of the producers in the valley. Here we are installing a sorting machine and building controllers for Star Nut almond and walnut processing facility in Stockton California. Their products are sold Worldwide.
2019
We design, build install and maintain a variety of products focused on machine shops. Here is out latest machine tending robot. We can interface our robots with CNC lathes such as Okuma or HAAS. We also build a variety of other machine shop tools using robots such as the MRT mobile robotic tender platform.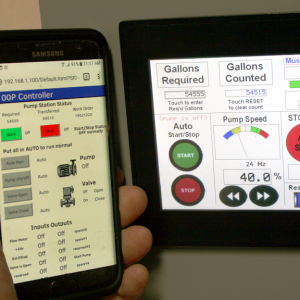 2019
We have been actively developing a line pre-programmed and small package UL 508A controllers for many different applications with built-in smarphone app. Here you can see one that is controlling a pump. Or controllers can schedule track fluid transfer using our smartphone App to monitor and control the process
2019
We sell new robots and we have plenty of robots in stock. Our primary source of robots is typically Kawasaki. They have the widest range and the most reliable robots in use today. If you try to find used Kawasaki robots, it might be very hard as they rarely fail. Here is a view of the Kawasaki USA facility in Wixom Michigan. All of those robots are waiting for a home.
Call us for a quote
(855) ROBOT-99
2019
Our Mobile Robot Tender (MRT) portable collaborative robot can do many types of jobs for a customer. The MRT and Robot are on a heavy duty cart and can be moved and locked in place. Once in position, the robot can assist users in completing tasks. All of our MRT units use Kawasaki Cubic-S collaborative software for the safety of the user and others in the area.