Preventive maintenance
Robots and equipment
troubleshoot and repair
Welcome to Bransom Tech Services
We are a licensed electrical contractor, designing and building robotic and automation solutions for manufacturing companies.
Electricians, Robots and Automation for your business
Robots and Automated Equipment will run longer with maintenance
Today's machinery is very complex and sometimes it is hard to find a source for proper maintenance. That is where BTS comes in. BTS provides deep maintenance for automated equipment.
Robot Troubleshooting

Robot Controller

Cables and Connectors

Operations and Software

Gearbox Maintenance

Scheduled Lubrication

Gearbox and Bearing

Auxiliary equipment

End Effector

Vacuum Equipment

Pumps and Valves

Component Parts
All automatic machines need scheduled maintenance. Automation is a big investment and will require proper maintenance if you expect to get years of life from the machinery. Under our maintenance program, we have seen robots operating for more than 24 years without a mechanical failure. The trick is to make sure lubrication takes place at regular intervals throughout the life of the equipment.
Robot Troubleshooting using the Teach Pendant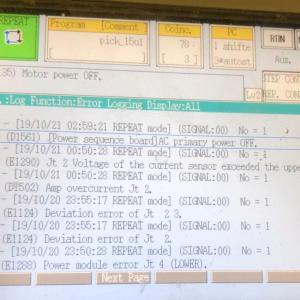 Using Log Files to troubleshoot
When trying to find out what is going on with your robot, it is best to check the error logs. In this robot, the error logs pointed to trouble with either the power supply or the servo controller. Fortunately we were able to narrow it down to the power supply.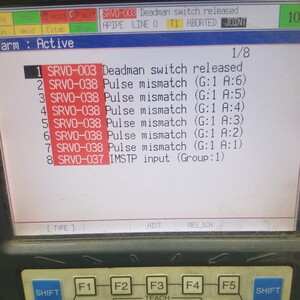 Generated Error Codes on Teach Pendant
In this robot we suddenly had these events after the robot had been powered down. We were able to trace the trouble to the servo control unit after swapping parts with another robot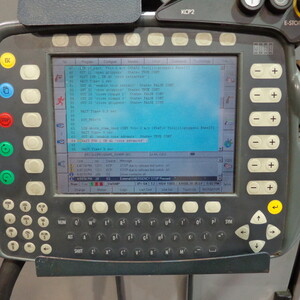 Troubleshooting by reading robot programming instructions to determine next action
On this robot we were called to assist in finding the trouble with the tooling. By examining the code, we were able to determine there was a bad proximity switch affecting the robot performance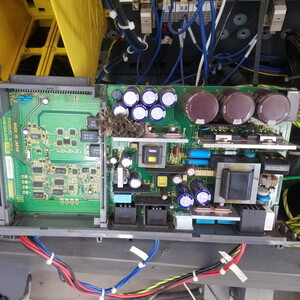 Seal your controller or you invite guests
In this robot, it simply would not operate. We had to remove the controller card to locate the trouble. You can see where a rodent was the culprit. The spaces in the controller must be protected from the smaller inhabitants as they will find the robot a comfortable p-lace to store food. It did not damage this particular card but instead damaged another card as a result of this pesky intruder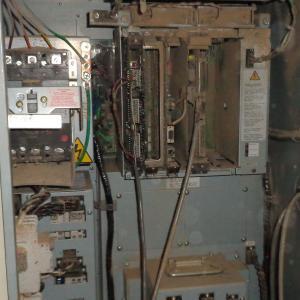 Keep all surfaces clean on your controller
This controller was totally ignored by the customer. This is why you have to do regular maintenance of your equipment. In this controller, faults started to appear on wet days due to the moisture being absorbed by the dust. No boards were damaged because we cleaned the controller and wrote up a PM that had to be done weekly.
Controllers have additional boards
We can safely remove daughter boards from the main controller. These are places where things can happen that are visually detectable. After removing the daughter board above, we could see discoloration on power dissipation resistors. This is a sure sign of overload or other power problems. BTS provides deep maintenance for automated equipment.
ROBOT REFURBISH AND RE-TASKING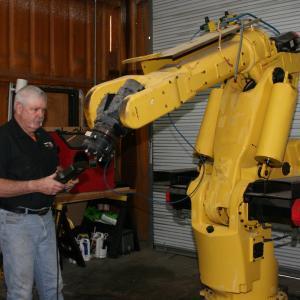 After we cleaned and PM'd the robot
We are happy to take your robots back to our shop for a cleanup and re-tasking. Here we took a Fanuc S-420 with an RJ2 Controller and re-tasked it to operate in a bulk materials handling facility. The robot turned out to be in excellent condition in spite of the tremendous amount of oil and grime on the outside. After we tested it we removed the tooling and then gave it a good wash-down. Afterwards we changed the gearbox grease and tested the servo motors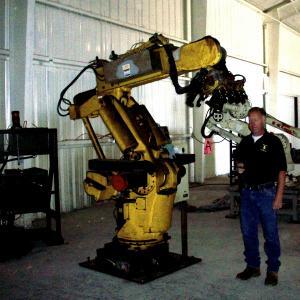 Dirty robot before we started
Here is an example of 2 things: (1) how NOT to do a PM of a robot and (2) proof that robots are capable of operating in the worst environment. That is the main reason we use robots is to keep people safe. This robot was grinding engine valves at the General Motors plant before we acquired it and re-tasked it for our customer.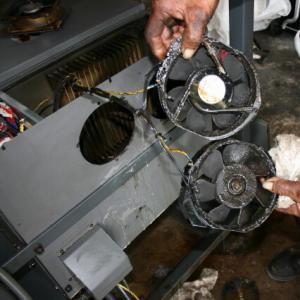 Cleaning the fans for the Heat Sinks
All robot controllers require the free flow of air behind the servo controller to keep the electronics cool. Here it looks like the controller was oily. We washed the fans and they were fine. BTS provides deep maintenance for automated equipment.