Electrical Contractor
INDUSTRIAL ROBOTS

FACTORY AUTOMATION
Welcome to Bransom Tech Services
We are a licensed electrical contractor, designing and building robotic and automation solutions
Electricians, Robots and Automation for your business
BTS Adjustable Gripper for Vacuum
Vacuum grippers are useful for boxes and bags. We have installed grippers that also grip wood, metal and plastic sheets
BTS VG100x VacuGrip2
Adjustable Reach EOAT Gripper
Multi View:
BTS has an assortment of options for cup angle, length and grip tips. Essentially useful for boxes, bags and plastic/wod planks
The wide frame is used to pick slats for separating groups of product.
We have optional pneumatic valves that can be mounted on the tool. However, 
most palletizing robots have built in air valves and lines that can be extended from the 4th axis for this type of tool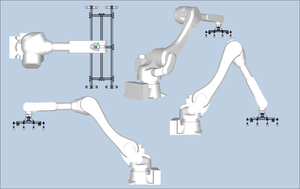 EV2 Vacu-Grip Economy Gripper
Here is a view of our EV2 Vacuum Gripper installed on a Kawasaki RS020N 6-Axis Robot. our vacuum grippers are self cleaning and come in a variety of configurations. The EV2 is a 2-Zone gripper capable of lifting up to 50 lbs. We are showing the robot picking a 45-lb plate and tilting it 20 degrees. Because we are using a double bellows vacuum cup, we cannot tilt more than that. Full tilt can be accomplished by using a different type of vacuum cup but the tool remains the same, making our "Economy Gripper" more robust than most vacuum grippers.