AFCW integrated controller
Auto Fill and CHeck Weigh
HMI and COntroller
Direct to Container Product Controller and Scale
Electricians, Robots and Automation for your business
AFCW Auto Fill and Check Weigh System
Packaging Solution for your Products
What is the AFCW Controller?
The heart of a check weigh system is the controller. If you produce a product that is delivered in bulk form this product can help you cut costs, improve quality and increase productivity. The AFCW is an all in one controller for operating valves based on the weight of the product. If you are filling 50lb, 100lb, 250lb boxes or anything up to 50,000 lbs. you should be able to attach our controller to the existing filling system..
Our controller is rated Class 2 DIV 2 Explosion-proof because of the dust but that is OK as all of the control portion is rated for Class 2 areas.
The AFCW operates butterfly valves, motor valves, gate valves and more. It can operate in a Class II explosion proof area. It uses intrinsically safe 24vdc for all sensors and controls. Capable of feedback control, the PID, Analog Outputs, Analog Inputs, High Speed Counters, Pulse Width Modulation and built in relay outputs make the AFCW a welcome addition for your filling system.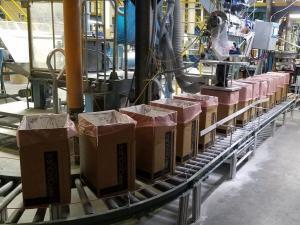 Automatic Fill and Feed
On this system we have Hytrol chain conveyor capable of handling 2000lbs per sq in moving empty boxes up tot he filling station for filling at 50 lbs each.
Here we see the full boxes moving in "Tight Stack" mode where the system can buffer product while pallets are changed at the far end or in case of other delays in the outbound conveyor process.
Color HMI+PLC Controller
Here is a view of the integrated controller HMI main screen. Auto and Manual fill modes, motor controls and status, programmable set-point steps allow for 2nd and 3rd product injections when filling with liquids.
Access to timers and counters are all on this page.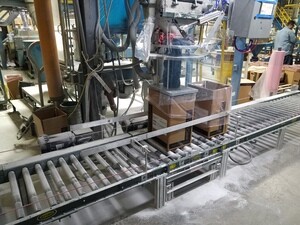 Integrated Scale and Conveyor
Integrated scale allows empty containers to be moved from the right side into the filling station. The AFCW monitors the weight and operates the filling station valve as required.
We have the ability to include up to 4 set points for operation of the valve. We can also close the main valve and open a second or third valve if needed.