Call Today
(855) ROBOT-99
or
(855) 762-6899
We build workcells for
palletizing robots
Welcome to Bransom Tech Services of Lodi California
BTS is not just another great electrical contractor,
we design and build automation solutions using robots, too.
Kawasaki CP180L 4-Axis palletizing robot.
This is our most popular robot. 3255mm (10ft-8in) reach and around 2000 moves per hour building pallets with 130kg (280lb) total load on the robot arm.
Click the photo for a link to our BPW180 Robotics Palletizing Workcell web page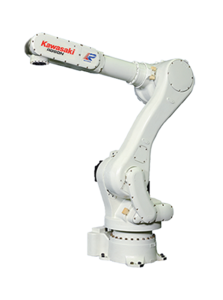 Standing at just over 5 feet tall, the Kawasaki RD080N is a special, medium size 5-axis palletizing robot. 2100mm (6ft-10in) reach and around 900 moves per hour building pallets with 80kg (175lb) total load on the robot arm It is very fast for mid size packaging and cases.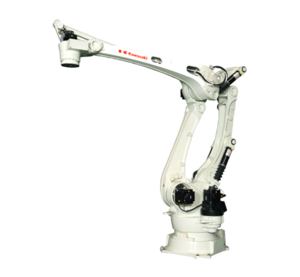 Kawasaki CP700L 4-axis palletizing robot
This is for loads up to 1000 lbs. 3255mm (10ft-8in) reach and around 900 moves per hour building pallets with 700kg (1500lb) total load on the robot arm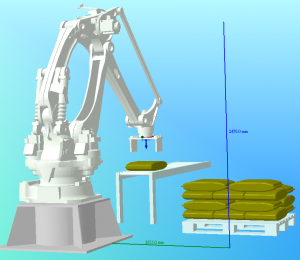 The core of each palletizing workcell is this package. Our economical single robot palletizer can stack product weighing up to 200 lbs at about one product every 5 – 8 seconds average. Pallets are put into the workcell with a forklift. Then they are stacked and the robot waits until the pallet has been changed.
This workcell is a good way to get a palletizing robot if your infeed can buffer product for the time it takes to change the pallet. Like all of our robotic palletizing workcells, it can be upgraded to meet the needs of your manufacturing facility and increased output,
This workcell is priced under $100k with some exceptions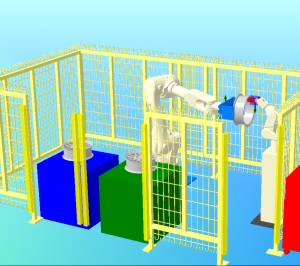 View of a grinding workcell we designed to do rough or finished grinding on castings. The larger robot holds the piece while the smaller robot runs a grinder or cutting tool.
This is similar to our welding workcell and our assembly workcell. This type of work is much safer, saves time, increases quality and consistency and operates 24 hours a day non-stop. In this workcell, our customer is a foundry making wheel castings. The grinding ended up using a larger robot and a tool changer.
This workcell is priced between $100k and $175k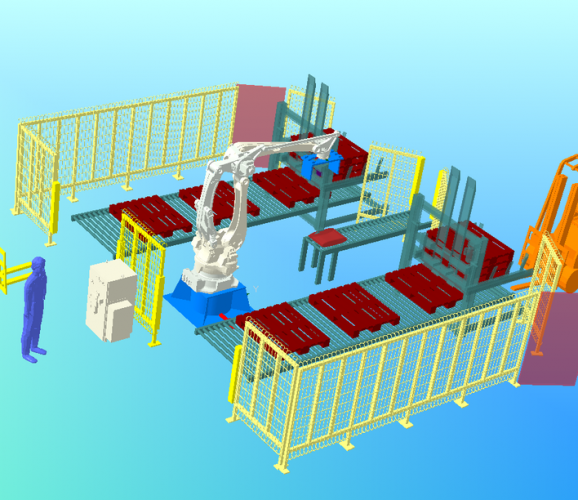 Here is a high speed product line that offers no interruption from stacking. As soon as one stack is done, the robot immediately moves to the other side. We have built stacking cells that handle two infeeds 180 degrees apart and the pallets are merged into a single conveyor for stretch wrapping. This is the highest speed workcell we can build, capable of 2080 moves per hour. It can stack a pallet of 40 objects that weigh 200 pounds each in 70 seconds.
This workcell is priced from $200k and up depending on features and tooling.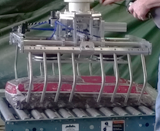 Tuning a Clamshell Gripper for the product bag is is intended to pickup and palletize. The clamshell gripper must have a special type of conveyor so it can get below the product.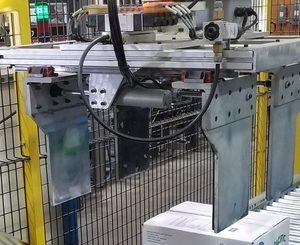 View of our 2-case Flat Side Gripper. This gripper picks boxes and can stack them very tightly against one another. We have single and triple grippers as well.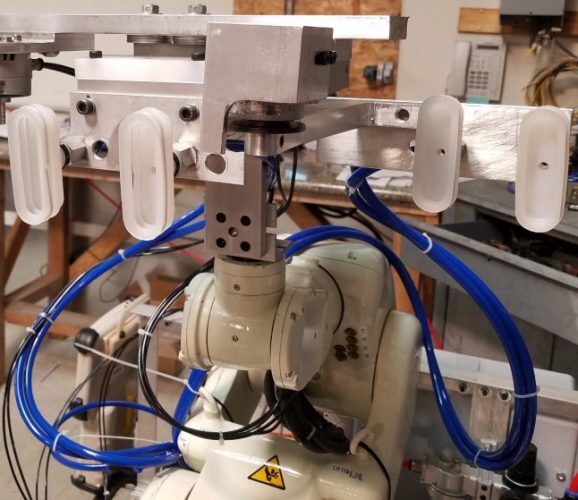 Compound Vacuum Gripper for palletizing is used when an upright position is required of the product. This tooling surrounds the product and holds it vertical.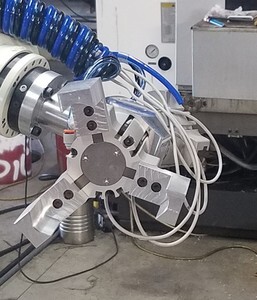 Horizontal 3-Jaw gripper variation. We use these to grab round parts in the horizontal plane. On 6 axis robot we use these to articulate parts for machine tending. They are also used in palletizing for rounded cases.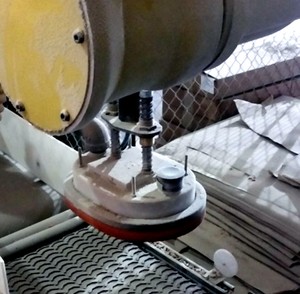 Schmalz vacuum gripper. We use these in combination with a GAST Blower. There are many versions of this gripper as well as some versions we build ourselves in house. With vacuum, you must consider porous nature and the rigidity of the case.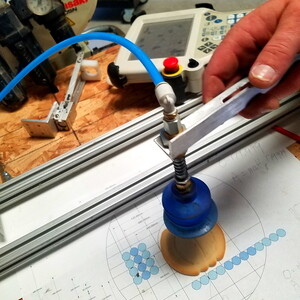 Cookie Gripper EOAT. We fabricate these custom grippers for a variety of applications. They are usually powered by pneumatic vacuum generators but can also be powered by house vacuum or Gast blowers. We have food grade and non-food grade vacuum grippers.
BTS Shuttle Tooling is a vacuum gripper with the ability to widen the distance between fingers. This is useful when picking several objects and placing them in containers where the "PUT" centerline is different than the "PICK" centerline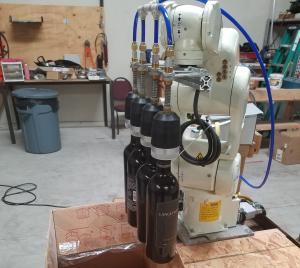 Bottle Gripper Tooling is used for boutique wineries where they are packaging up to 4 bottles at a time for wine club and associated bottle needs. The BTS Bottle Gripper can also make cases of any bottle with a large base and small neck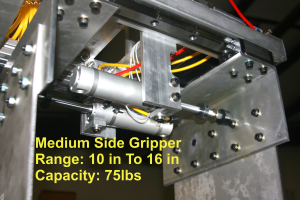 Our flagship gripper can pick many size and shapes of boxes. We build these to be scalable, making them the most cost effective choice for Box Picking and Bale Picking. The Side Plates can be shaped for specific applications as needed.
ADVANCED TECHNOLOGIES
The Kawasaki® robot controller has a high performance CPU which provides extremely accurate trajectory control, high-speed program execution as well as extremely fast loading and saving of files.
USER FRIENDLY OPERATION – The easy to use Kawasaki teach pendant now incorporates motor power and cycle start at your fingertips. Multiple information screens can be displayed simultaneously. The intuitive teaching interface is simple to use.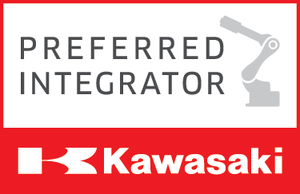 ABUNDANCE OF FEATURES – A large variety of unique features support a wide range of applications and industry automation. The extremely powerful Kawasaki AS Programming Language allows for sophisticated motion and sequence control. You can even use our Kawasaki K-Roset® palletizing software
EXPANDABLE – As many as 10 external axes can be added for a total of 16 axis controls from a single robot controller. Numerous communication field buses are available for controlling peripheral devices. The Kawasaki K-Logic sequencer software can be combined with user- customized interface panels on the teach pendant.
EASY MAINTENANCE – Modular components with limited cables allow for easy diagnostics and maintenance. On board self-diagnostics minimizes troubleshooting and reduces maintenance . Remote Diagnostics via the web server enables service support from anywhere in the world.
LIST OF FEATURES
The Kawasaki CP and R-Series of Robots is our preferred choice to perform palletizing. These are the simplest and most reliable robots we have had experience with and can handle any application and simultaneous external functions related to machining services such as operating extra axes, conveyors and manipulators.
Kawasaki Palletizing
robot CP and R series:
12 inputs and 8 outputs on the robot arm

Built-in Software EthernetIP (up to 3 IP Addresses)

Configurable Dedicated Robot I/O Robot motion steps and status

Internal I/O (2048 standard)

Built in KLadder – Ladder logic programming for external devices.
Robot Options:
32 discrete inputs and 32 discrete outputs

Field BUS option board
Profibus, DH, Rockwell protocols, etc.
Cubic-S Collaborative Software option
COBOT option available on many robots

Soft Absorber Software option

Conveyor Tracking Option Board
7th Axis board for traverse robot movement
ROBOT BASE PEDESTAL:
The custom pedestal is very heavy and flat. We generally like to see at least 6 inches of concrete under a robot. Our bases require 8 anchor bolts. This keeps the robot in place during high speed operation.
The base of the robot can be made in a variety of ways depending on your application. However it is important to pick the right one to avoid the use of additional movement to safely move in the palletizing workcell.
END OF ARM TOOLING:
As you can see above, we have built many types of tooling for robots. When it comes to palletizing, there are a lot of options to get the product off a machine and on to a pallet There really is no limit to the size or weight of the part and we can design a tool that will handle the job. And Kawasaki makes a robot capable of the most complex applications.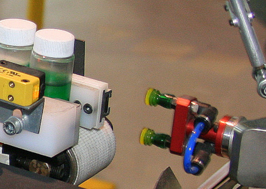 Here is an example of our smallest gripper on a DELTA robot.
You will generally find these on the Kawasaki YF02 or YF03 Delta Robots. The Kawasaki YF02 is our fastest delta robot and can pick and place objects 3+ times per second. Cycle times vary .27sec to .45sec
ROBOT ARM I/O HARNESS:
All Kawasaki Robots come with the ARM-I/O Harness to allow you to hookup your own custom End of Arm Tooling. You can communicate with this cable via EthernetIP or if you add the 1TW board option, you can use discrete I/O functions.
The robot arm harness is pre-wired for 12 inputs and 8 outputs. You can also order the optional internal pneumatic solenoids that will fit inside the arm. These will use the ARM I/O Harness and up to 8 solenoids can be installed inside the arm of the robot. You will still have 12 inputs for your proximity and positional sensors.
ROBOT communication

a
nd HMI/PLC options :
Production equipment uses a host of communication
options. In most of our palletizing installations, the accounting department wants an updated accounting of production.
In most of our palletizing installations, the accounting department wants an updated accounting of production.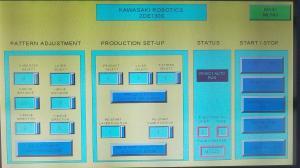 We can use Ethernet to send data to the office computer. Our programming options allows us to transfer real-time data to the managers regarding production counts.