about bransom tech services
Since 1972 we have been twisting wires as a licensed electrical contractor. We design, build and install product handling solutions for manufacturing companies using automation solutions including robotics. BTS has worked from Virginia to Texas to California for our many customers. We are electricians, maintenance technicians, programmers, automation engineers and robot integrators.
Electricians, Robots and Automation for your business
High Quality Work
I thank you for your interest in Bransom Tech Services. I am a California contractor with more than 45 years of experience in electrical and automation processes. BTS started out as an electrical contractor and began working on machinery as part of our core occupations back in the 1970's. By the 1980's we were doing work for contractors, architects and engineering companies designing and building everything from shopping malls to conveyor and material handling systems, eventually merging with my Father's company, RHR Services, to begin building highly specialized machines. Here is a list of clients.
In the 1990's we were taking on projects in the chemical and energy industries. We added networking skills, Computer Programming , Modicon, Allen Bradley and Rockwell to our core service and support. At the time, we were designing, installing and supporting complex bulk material conveyors, fabrication shops, water floods, crude oil processing systems and wind turbine farms. In 2001 we added projects in the converting industry, building portions of a 250,000 sq ft. manufacturing facility in Stockton and managing the installation and programming of the machinery inside.
In 2008 we began adding robotics to our core occupation when asked to re-task robots for a bulk material handling facility in Bakersfield. As automation grew, we partnered with FANUC Robotics in 2013 and KAWASAKI Robotics in 2016. Keeping up with automation technology is important in today's economy and we have the experience to back our projects and proposals.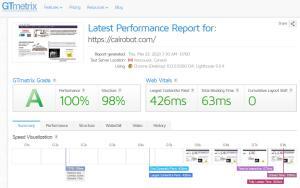 I spend a great deal of time making our website enjoyable for my customers and the general public. You may not know this but I am a pretty good programmer in many different programming languages. Among them are the website languages PHP, C, HTML, Java and the case tools developed by others in the web page community.
That is why I am happy to share our ratings from time to time so you know what a good website looks like using the GTMetrix test site. Since Google sets the standards, their scores are generally 100% / 99% but there is not a single image in their home page. Amazon generally rates a ~84% / ~75% with tons of images in their home page. Check them for yourself at GTMetrix.COM
BTS designs and builds automation solutions using rOBOTS