Electrical Contractor
INDUSTRIAL ROBOTS

FACTORY AUTOMATION
Welcome to Bransom Tech Services
We are a licensed electrical contractor, designing and building robotic and automation solutions
Electricians, Robots and Automation for your business
BTS MG100-55 Magnetic Gripper
MG100-55
 Robotic Palletizing/Depalletizing Magnetic Pickup Tool
Tool is shown with stripper cylinders installed with 6G SY5K SMC Manifold
52×55 tool is for moving metal objects such as cans with a large robot
The modular design of the magnet makes it easy to create any size
This tool is designed to work on a 500kg robot or larger

Just tell us the robot you want it mounted to

Each magnet unit is repairable and modular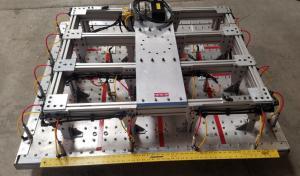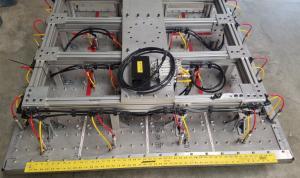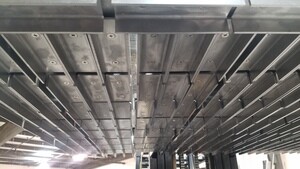 From simulation to reality, MG100-55
 Robotic Palletizing/Depalletizing Magnetic Pickup Tool solves problems handling metallic parts and layers of cans over a wider range.
Each magnet module has 12 to 16 magnets.
Special formula ceramic magnets fit in the channels
MG100-55 Magnetic Gripper is our largest gripper
We make a large range of gripping widths
Load will strip off 100% in just seconds
Independent, adjustable stripping control
 Useful for asymmetrical product picking
Easy to replace stripping cylinders

Cushion Stop softens the Pick
Adjustable offset for mounting to robot
Stripping Cylinder Flow Control
Optional Tie-sheet gripper
Optional Pallet Gripper
1 Year Warranty
Locally available parts are in stock
BTS MG100-55 Magnetic Gripper Testing on Cans
MG100-55
 Robotic Palletizing/Depalletizing Magnetic Pickup Tool being tested on a customer's product for sizing
Our 52×55 tool contains 16 of these sections. There are 6 unique sizes for many ranges of use
The tool on the left is shown with stripper plate retracted and cans being held by tool section
The modular design of the magnet makes it easy to create any size required for a customer
The tool on the right has the stripper plate extended, causing the product to be left in place
The MG100-55 is designed to work on a 500kg robot or larger. The tool can lift up to 600 lbs safely.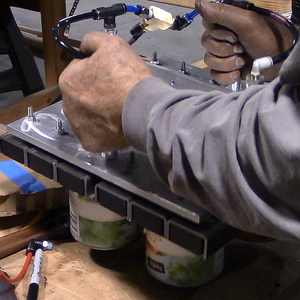 Picking a group of cans with one section of the magnet. The MG100-55 has 16 magnet units total. The stripper place acts as a cushion as the tool drops on the product.