Call Today
(855) ROBOT-99
or
(855) 762-6899
custom programming
HMI | HMC | PLC | PC
ROBOts | machines
Welcome to Bransom Tech Services of Lodi California
BTS is not just another great electrical contractor,
we design and build automation solutions using robots, too.
We build a wide range of
Programmable Controllers
Since 1989 we have been programming panels for a variety of applications. Beginning with the Allen Bradley PLC4, we have done jobs for companies that have a need to increase the safety and efficiency of their existing processes and applications.
Our central belief when building a great control program is the use of a "Maintenance-Centric" pseudocode design. Our programs always include screens for the maintenance department. Unlike other software shops, we design our program so the end-user can interact with confidence.
Programs are easy to understand, clearly commented and use understandable code written so maintnance staff can understand what is happening and are able to make decisions about the next step when dealing with a problem.
We have all been maintenance technicians and know the importance of having equipment we can understand. This "craftsman approach" to programming is what makes our programs and our panel building shop better than all the others.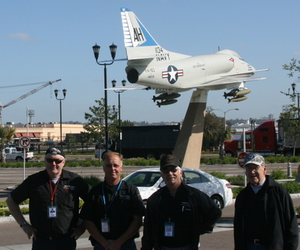 BTS Engineers at Corona Naval Station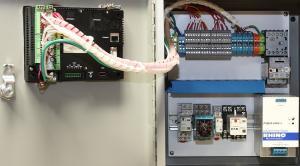 Here is an example of how you can remove a tremendous amount of expense by adding an HMC to your controller. In this case, the 12x14x8 controller replaced a 30x24x10 panel full of buttons, selector switches, relays, transformers, analog devices and timing relays.
What is an HMC?
An HMC combines an HMI and a PLC into one small footprint package

Our HMC controllers are Class I, Division 2, support high-speed counters and timers, provide serial and Ethernet communications. We offers web server functionality, data logging, recipes, graphs, alarms, trending, create objects with multiple tasks, password protection and more.
We generally write our logic in Native Ladder Logic to make it easy for your maintenance staff to understand. Troubleshooting complex equipment can be difficult without an understanding of the program. Unlike other software developers, our "craftsman approach" gives the ability to understand the software to your maintenance people. This eliminates the need to call someone everytime there is a problem. More importantly, your maintenance people can narrow down problems quickly with all of our maintenance screens.
Here is a list of programs we have written for our customers' controllers.
| | |
| --- | --- |
| Pallet Wrapper infeed conveyor control station | Punch Press & Brake press integrated servo controller |
| Conveyor to adjustable height Pallet lift | Compressed air & vacuum plant central controller and logging |
| Lead/Lag pump controller with email alarm msg | Manual fill and seal bagger & heat control conversion to automatic |
| Robot bagging and palletizing work cell | Recipe driven robot pick & place box filling line |
| Recipe driven blending pump with flow meter and logging | Accurate weight box filling line with reject station for QC |
| Bottling line control: transfer, corker and capper | Consolidated conveyor control system – 18 lines |
Just tell us what you need. Chances are high we have done it already. Leverage that experience!
HMI and PC controllers have the advantage of integrating costly devices into the PLC using commonly included I/O such as high speed counters, encoder inputs, analog inputs and outputs, serial communication such as ProfiNET and Data Highway and Ethernet-based networking.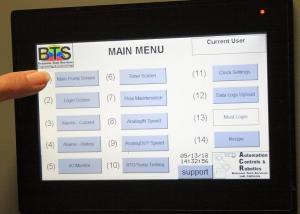 Menu driven controller. The functions you request with your process controller will be here. Pop-up help screens guide operators to the right setup functions, quickly and easily.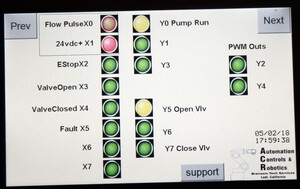 The term "Process Controller" is often used to describe a heat/cool process but actually refers to a much broader range of equipment control options. Motors, lights, solenoids, hydraulics, pneumatic devices, valves, meters, encoders, pumps and other equipment can all controlled by an HMC process controller.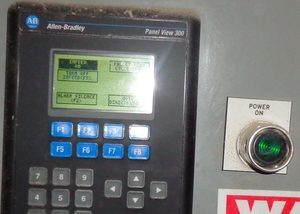 We work with all types of controllers but like most people, we have our favorites. Allen Bradley makes an integrated system of PLCs that accommodate motor drives, servos, PLCs, HMIs and hundreds of network devices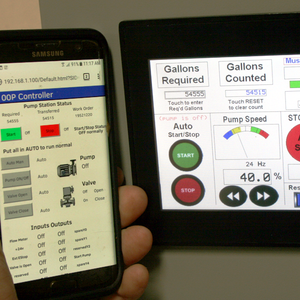 The old way was an HMI and a PLC. The new way is with an HMC. We build custom, networkable touchscreen PLC control panel systems, pre-programmed, up to date, UL-approved with reliability guaranteed. We ship them debugged and ready for your control system panels and we can include an enclosure of your design or ours.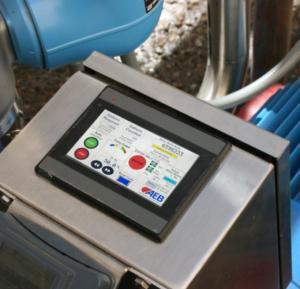 Whether you are building a new machines or you have an older machine, our controllers are built for any process. We can work off a print or we can analyze the machine and create the right program to improve the safety, productivity and integrity of the equipment or machine being upgraded.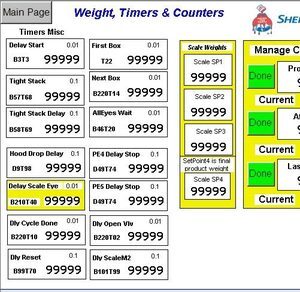 We work with many PC controllers, servo controllers, drive units and PLCs. The limiting factor of panel building is the tremendous cost of software for a particular type of hardware. Each type of PLC, drive and servo has its own advantages and disadvantages. We have enough experience to specify and explain what your choices mean to you.
Here we have integrated a scale, valve controller, encoder feedback, weight feedback, PID loops, Yaskawa drives and across the line starters into a single 8x8x6 HMC mounted in a tiney box.
The area is Class 2 because of the dust but that is OK as alll of the control portion is rated for Class 2 areas. The blue tape is holding a piece of protective film, in place to keep the controller in pristine shape for the customer.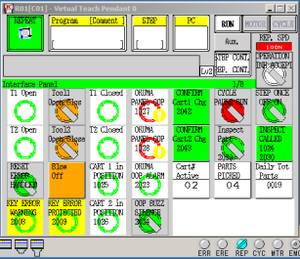 Programming a robot is a little different from a PLC or HMC. The language is different because you are dealing in three dimensional data. When you design the robot program you have to integrate a lot of safety devices into the movements.
This screen is a main control screen with status updates to nake it easy to know what is happening. We puts hundreds of messages in our robot programs for the "maintenance-centric" portion of the program.
.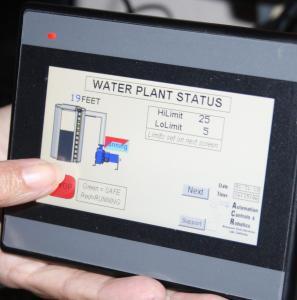 When a local resort was having trouble with their water plant, we propose a simple controller mounted in their existing control panel to run the water plant. We put it online for them so they did not have to drive a mile to see why anyone does not have water.
We can password protect the controller from attack over the internet and program it so that you can only do so much from your smartphone. That is to make it safe for everyone.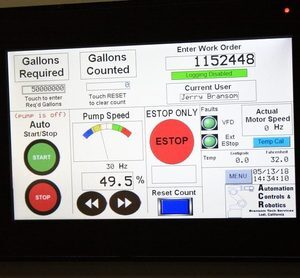 In our valley, there are hundreds of fruit processing facilities. Many are using our cart pump controllers to transfer fruit juices from crushers to fermenters or from transport trucks to storage tanks.
Our controller can handle resipe driven transfers up to 4 million gallons at a time with an accuracy of less than one gallon per 5000 gallons. We have eliminated the expensive PLC and used the additional room to reduce the footprint of the Nema12X control panel.
View a list of options and features on our HMC controllers
Network ready, manual/automatic controller
IP66 rated, Class 1 Div 2, UL/cUL Approved
Up to 600v, 50/60hz, single or three phase
Up to 99 Recipes can be programmed in by users
Unit is loaded with maintenance friendly screens
Analog Inputs and Outputs
Pulse Width Modulation and Encoder inputs
PID control, Relay outputs
Built in Web Server for remote control
-Thermocouple & RTD inputs
High Speed Counters, High Speed Timers
Unit comes with terminal blocks and a din rail
External E-Stop & fault connections
Network addressable. Built in Web Server
Modbus, Data Highway, IP over Ethernet & more
Serial Port, USB & MicroSD on every model
USB memory stick Backup/Restore and Upgrade
Other options are standard with the C100 controller