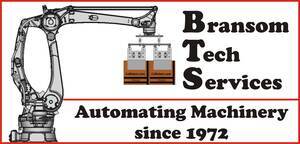 For more than 50 years, we have designed and built automation solutions for a broad range of applications and processes. We are Farmers, Millwrights, Machinists, Electricians and Engineers and we have the tools and experience to complete the job.
Automation is a winning strategy
Industrial automation is not about replacing workers, it is about working smarter. Working smarter leads to higher production and lower costs.
The 4 goals of Automation:
(1)Increase Safety, (2)Reduce Injury, (3)Create Employee Incentives, (4)Create Reduced Cost Incentives.
BTS designs and builds automation solutions using robots.
"From an early age I was always looking for a way to do a job quickly and efficiently. I coined the term 'Maintenance-Centric' to describe what I wanted in the machines I build. What we do at BTS is create solutions that pay for themselves over a long term"
Think about this if you want to be an automation engineer:
The two images on the left show why automation is complex.
You must first know how to wire the devices, motors, servos, inputs and outputs
You must know communications (Serial, TCP, DH, Modbus, etc) to make it work
You must build a logical TAG Database so it is easy to understand
You must know multiple software applications and be fast using them
You need a good background in Math, especially analytical Math
Learn mechanical skills (Auto Shop, Farm machinery, a Job) while in school
You need advanced understanding of a PC, not just games and TikTok
CAD programs are required to record accurate Spec and Dimensional data
You will need Spreadsheets and Word processors to document procedures
You must read every instruction manual for the components you are using
Learn to program SERVO DRIVES, FREQUENCY DRIVES and learn relay logic
Learn a PLC language (Ladder, Function Block, etc.) then learn another
Build logical and useful Human Machine Interfaces using software + Graphics
Build parts and applications that are maintenance-centric
Finally, YOU must be willing to learn more on your own than you do at work!
Or just call us and we will get you going!
We build Amazing tools and machines
Since 1972, BTS Electric Service has operated as a residential, commercial and industrial electrical and mechanical contractor. After high school, Jerry Bransom started B&B Services in Burleson, Texas.
Today we are a licensed Electrical Contractor and engineering firm with expertise and experience planning and executing complex projects on time and on budget..
BTS designs and builds automation solutions. We can integrate robots into automation. We are a great resource for manufacturers who wish to improve and modernize existing equipment and processes.
BTS is a preferred integrator for Kawasaki Robotics. We use robot languages such as AS language for KAWASAKI robots and KAREL language for FANUC. In some cases, such as our palletizers, we use KRoset and Pallettool in the robot to manage configurations.
We are very experienced with complex manufacturing systems and especially the end-of-line equipment where products are boxed and transported for shipping. BTS designs and builds automation solutions using robots. Material handling, assembly, pick-n-place and machine tending robots are our specialty.
We can implement anything from a PLC+HMI operating environment to robots and large scale integrated systems.
Process programming is just one of the many solutions we provide our customers. We use process design in industrial manufacturing automation controls and robotics.
We use CAD, simulations and CASE tools to achieve the goals of our customers and provide cost effective, reliable and maintenance-centric solutions. We build UL 508A Industrial Panels for many types of machines. We can also build customized industrial panels for you.