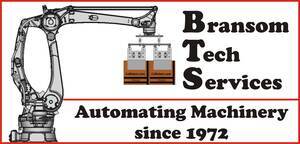 For more than 50 years, we have designed and built automation solutions for a broad range of applications and processes. We are Farmers, Millwrights, Machinists, Electricians and Engineers and we have the tools and experience to complete the job.
View a video of our latest machine
LP-120v3
Packaging long items at a rate of 10 per minute!
We design many types of machines for manufacturing.
Call us (855) ROBOT-99 or email support@calrobot.com for some truth about how to apply automation.
"From an early age I was always looking for a way to do a job quickly and efficiently. I coined the term 'Maintenance-Centric' to describe what I wanted in the machines I build. What we do at BTS is create solutions that pay for themselves over a long term"
BTS designs and builds automation solutions using robots.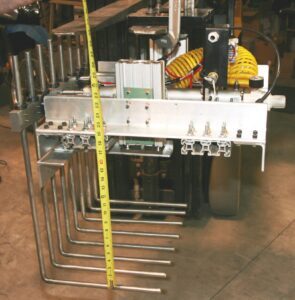 Through the roller EOAT for palletizing boxes and bags. Adjustable size, use this to palletize boxes or bags very efficiently especially open top boxes.
The forked platform is 14 inches wide, able to serve boxes or bags up to 20 inches wide. The forks will work in conjunction with a top plate that applies top pressure to the box/bag, allowing the robot to move at high speed to the pallet. The addition of a scraper to hold the box/bag back while the forks withdraw.
Cylinders are controlled by a 3way valve with exhaust center. This allows the operator to relax the top pressure while maintaining the position of the scraper. This will allow the box/bag to be dropped into position on the pallet.
This tool is optimized for box/bag that are at a height of 10in to 16 in. Platform forks are adjustable. They are mounted with a shear pin and clamp to help decrease damage if the tool is accidently crashed. The tool shown is adapted for a Kawasaki Robot standard flange. Other options are available "Through the Roller" EOAT for Robot: Adjustable tall box design shown for bags or boxes Overall Tool Dimensions: 24.8W x 24.5L Min Height 25.75 (Height varies)
Two MGP Style actuators with dual 16mm guide rods
Single cylinder to withdraw lifting platform from box or bag
40mm x 150mm Dual Rod Scraper Cylinders
Longer draw available on larger tools 40mm x 15in (381mm)
Call (855) 762-6899
14inch of draw on cylinder.
Flange Face to shortest box:14.75 inches to the top of the box/bag
Tool weight as is with longer tines: 130lbs as shipped
Wide range of robot flanges available
Since 1972, BTS Electric Service has operated as a residential, commercial and industrial electrical and mechanical contractor. After high school, Jerry Bransom started B&B Services in Burleson, Texas.
Today we are a licensed Electrical Contractor and engineering firm with expertise and experience planning and executing complex projects on time and on budget..
BTS designs and builds automation solutions. We can integrate robots into automation. We are a great resource for manufacturers who wish to improve and modernize existing equipment and processes.
BTS is a preferred integrator for Kawasaki Robotics. We use robot languages such as AS language for KAWASAKI robots and KAREL language for FANUC. In some cases, such as our palletizers, we use KRoset and Pallettool in the robot to manage configurations.
We are very experienced with complex manufacturing systems and especially the end-of-line equipment where products are boxed and transported for shipping. BTS designs and builds automation solutions using robots. Material handling, assembly, pick-n-place and machine tending robots are our specialty.
We can implement anything from a PLC+HMI operating environment to robots and large scale integrated systems.
Process programming is just one of the many solutions we provide our customers. We use process design in industrial manufacturing automation controls and robotics.
We use CAD, simulations and CASE tools to achieve the goals of our customers and provide cost effective, reliable and maintenance-centric solutions. We build UL 508A Industrial Panels for many types of machines. We can also build customized industrial panels for you.