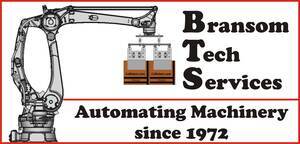 For more than 50 years, we have designed and built automation solutions for a broad range of applications and processes. We are Farmers, Millwrights, Machinists, Electricians and Engineers and we have the tools and experience to complete the job.
LONG PRODUCT PACKAGING
View a video of our latest machine
LP-120v2
Packaging long items at a rate of 10 per minute!
We design many types of machines for manufacturing.
Call us (855) ROBOT-99 or email support@calrobot.com for some truth about how to apply automation.
"From an early age I was always looking for a way to do a job quickly and efficiently. I coined the term 'Maintenance-Centric' to describe what I wanted in the machines I build. What we do at BTS is create solutions that pay for themselves over a long term"
BTS designs and builds automation solutions using robots.
AEB Biochemical chooses BTS C100 Controller for Advanced Cart Pump
Quality and Accuracy in a small pump for the Food & Wine Industry
To the left is the latest version of the AEB Biochemical Cart Pump using the C100 Mini Controller. Automatic pumping of measured fluid with integrated valve, pressure sensor, integrated flow meter, integrated turbidity meter and a 250 gpm pump with automatic setpoint shutoff.
HMI operation, PLC control of all functions. Pumps up to 4 million gallons accurate to 1 gallon.
Integrated VFD Speed controller and optional Fault Signals for VFD
Flow Fault Signal shuts off pump on dry lines or other errors
Overpressure Shutoff (Generally included in all pumps)
No-Flow signal (For rubber impeller pumps) with backup "gallons expected" function.
Optional Password protected functions and screens are customizable to 10 users
Wifi Connectivity. In general, a Cart Pump is between tanks and cannot be connected to WIFI due to interference. If your tanks are covered in WIFI, you can monitor and operate your pumps from a PC or Smartphone if this feature is enabled.
Master/Slave pumping allows the user to blend using one pump as a master to regulate the blending pump gallons and speed.
Latest Cart Pump by AEB Biochemical, Call (855) 762-6899
We build Amazing tools and machines
Since 1972, BTS Electric Service has operated as a residential, commercial and industrial electrical and mechanical contractor. After high school, Jerry Bransom started B&B Services in Burleson, Texas.
Today we are a licensed Electrical Contractor and engineering firm with expertise and experience planning and executing complex projects on time and on budget..
BTS designs and builds automation solutions. We can integrate robots into automation. We are a great resource for manufacturers who wish to improve and modernize existing equipment and processes.
BTS is a preferred integrator for Kawasaki Robotics. We use robot languages such as AS language for KAWASAKI robots and KAREL language for FANUC. In some cases, such as our palletizers, we use KRoset and Pallettool in the robot to manage configurations.
We are very experienced with complex manufacturing systems and especially the end-of-line equipment where products are boxed and transported for shipping. BTS designs and builds automation solutions using robots. Material handling, assembly, pick-n-place and machine tending robots are our specialty.
We can implement anything from a PLC+HMI operating environment to robots and large scale integrated systems.
Process programming is just one of the many solutions we provide our customers. We use process design in industrial manufacturing automation controls and robotics.
We use CAD, simulations and CASE tools to achieve the goals of our customers and provide cost effective, reliable and maintenance-centric solutions. We build UL 508A Industrial Panels for many types of machines. We can also build customized industrial panels for you.