CG100-24 Size 2 Clamshell Gripper
Download the short sales brochure for the CG100-24 Clamshell Gripper
Download the short sales brochure for EP180 economy palletizer
Download the full brochure for EP180 economy palletizer
View the CP180 on our shopping website
A word about where you mount the base of your robot and what is required
Heavy items such as bags can generate high moment (torque) forces and the weight of the robot plus the tooling increases the torque on the robot mounting structure (called moment). Poorly mounted robots can detach from the concrete and possibly tip over. Maintenance and Inspection are very important in this regard. The surface you mount the robot to is required to be strong enough for the forces the CP180L robot produces at the astonishing speed of 2080 cycles per hour.
The robot base is a very important piece of the machine in that it manages the torque generated by the robot movements as well as elevates the robot to the optimum height above the work.Optimum height for a robot is a calculated area where the robot is able to achieve the designed speeds of the robot. The 3636 Base is best. For example, we use the Kawasaki CP180L in this application both for its reach and durability, but also for its speed. At the designed height, the Kawasaki CP180L can move 1800 cycles per hour at standard speeds with large loads. With 130kg loads, the CP180L can move at an astonishing 2050 cycles per hour. The limitations have to do with many factors including the strength of the concrete where the base is mounted. if your concrete floor will not support our 3636 Base, we can build the mounts larger to spread the load out or integrate the robot base into the equipment in the area.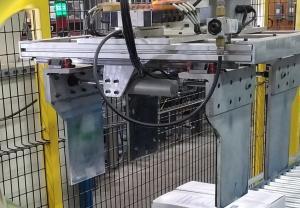 BTS SG100-28 Side Gripper
Operational View:
Tool showing cylinder and side grip assembly
Reversible clamps for wider range of picking size
Plates or Forks can be mounted inside or outside the clamping guide
Each cylinder can be controlled by robot

Easy to use heavy aluminum profile for adding optional accessories

BTS SG100-28 Side Gripper
Build View:
Our Side Grip Tooling is a heavy duty tool that can pick boxes or bales. Here we are laying out the tool.
Tool has 4ea Compression Clamp Cylinders with their own solenoid
Plates or Forks can be mounted inside or outside the clamping guide
Compression is only on the sides for better stacking. Grip-relax-Ungrip

Rails and guides can easily be changed out.

We use sealed bearing support on the clamping guides to minimize wear on tooling to make this tool almost maintenance free to the user. Only the guides must be lubed.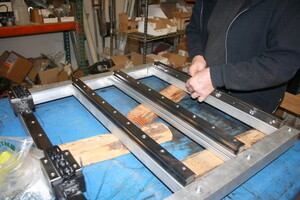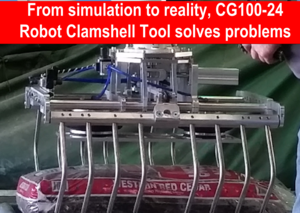 From simulation to reality, CG100-24
 Robotic Palletizing Clamshell Tool solves problems handling bulk bags and sacks over a wider range. One tool for all the sizes you produce.
What is a Clamshell Gripper? no.. it is not for gripping clamshells
Clamshell Grippers are used to pick bags and place them on pallets. it is one of the hardest of all palletizing operations. Generally bags are uneven and hard to stack. This tool adds the latest technology, making stacking fast, even and efficient.
To the left is a a view of our older CG100-24 Size 2 Clamshell Gripper (Rev1)
We now have an improved design in our REV2 gripper, CG100-24
Larger range of gripping widths
Higher Speed – Pick up to 17+ per minute*
Independent, adjustable compression control
 Useful for asymmetrical product bags
Reversible gripping forks, optional shapes
Dual clamping cylinders help center product in bag
Higher speed clamping with larger air cylinders
Cushion Stops on every cylinder for longevity
Adjustable offset for mounting to robot
Compression and Clamping Cylinder Flow Control
1 Year Warranty
Locally available parts are in stock
Mounts to any Palletizing robot
* most conditions are 5-7 seconds per pick
BTS CG100-24 Clamshell Gripper
End View:
Bag Gripping Ranges 24 inches wide (+/- 6 in). Length of a bag is up to 5 feet.
Because there is adjustable clamping rods, this tool is versatile over a wide range of bag sizes and fill materials. We can palletize softer bags of bark and mulch or harder/heavier bags of sand or cement.
Our clamping system allows a 40 deg (+/- 20deg per rod) motion on the clamping rods. This means the gripper can be adjusted quickly with a small crescent wrench and allen wrenches over a wide range of bag sizes.
The CG100-24 Size 2 Clamshell Gripper can be easily fine tuned by using the turnbuckle adjustment
By installing forks on inside of the gripper shaft, a wider range of small to large bags is possible on just one tool.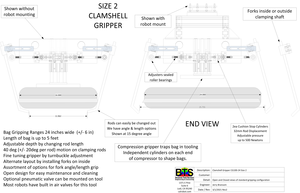 BTS CG100-24 Clamshell Gripper
Side View:
BTS has an assortment of options for fork angle, length and grip tips. Not all bags will stack with the same forks so you might need more than one set.
The CG100-24 Size 2 Clamshell Gripper tool's "Open Design" allows for easy maintenance and cleaning of the tooling. We do have an optional tooling cover for areas where falling debris can clog up the tool or cause buildup which can inhibit the tool operating range.
We have optional pneumatic valves that can be mounted on the tool. However, 
most palletizing robots have built in air valves and lines that can be extended from the 4th axis for this type of tool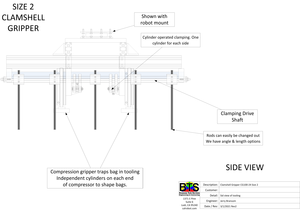 BTS CG100-24 Clamshell Gripper
Top View:
Tool is shown with a robot mount on the top of the tool
Tool has 2ea Compression Clamp Cylinders and Foot Plates for greater bag
Forks can be mounted inside or outside the clamping shaft
Compression gripper traps bag in tooling and Independent cylinders on each end 
of compressor can shape bags for better stacking.

Rods can easily be changed out. 
We have angle & length options available

We use sealed bearing support on the clamping shaft, turnbuckle pivots and all cylinder clevis pins to minimize wear on tooling. our tooling is almost maintenance free to the user.