Call Today
(855) ROBOT-99
or
(209) 367-1403
EP180 Economy Palletizer
Economical choice for
robotic palletizing workcell
start stacking pallets the easy way
Welcome to Bransom Tech Services of Lodi California
BTS is not just another great electrical contractor,
we design and build automation solutions using robots, too.
BTS Economy Robot Palletizing Workcell Price includes:
Kawasaki CP180L 4-Axis Robot up to 2080 Moves per Hour w/130kg load and 10 foot reach
Kawasaki E03 Regenerative Controller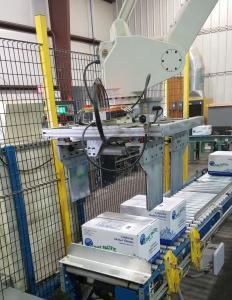 Kawasaki Teach Pendant and 10m cables
36 inch x 36 inch Robot Base and mounting bolts Note1
BTS Vacuum Gripper EOAT
1ea 52 x 58 Pallet Pocket with sensors for 42×48 inch pallet
4 Stacking Configurations pre-programmed
Optional 30 x 36 Live Roller Variable Speed Buffer Pallet
Optional 30 x 36 Live Roller Variable Speed Pick Conveyor
Optional Yaskawa A1000 Advanced VFD for Buffer and Pick Conveyor
Optional BTS C100 Integration PC Controller with 10.1 Color HMI
Optional 18ft x 25ft Safety Cage with Light Curtains.
Optional Safety access Gate
Optional All installation labor and material costs (Please see customer responsibilities)
Why choose the EP180 Robotic Palletizing Workcell
and Kawasaki CP-180 Robot
Many companies sell very expensive packages for palletizing that includes complicated tooling, integrated conveyor systems, pallet feeders, tie sheet feeders and light curtain systems. The EP180 Palletizer is the same robot core you find with the best palletizers. It is a basic system for anyone wanting to get a robot palletizer and want it to grow with your business. Some of our customers were having trouble getting and keeping temporary labor to stack pallets. The BTS Economy Robot Palletizer Workcell with Kawasaki CP180L is the answer for companies with temporary labor problems. The robot can be installed in smaller spaces where there is not enough real estate for a larger palletizer.
Once you have the robot, you need to locate it near your conveyor and then build your own guarding. Or we can help you do everything you need to fully integrate the robot into your production line.
We are a distributor for Kawasaki Robots. With 50 years of experience in robotics, Kawasaki has accumulated a wide range of application technologies in every field and industry. Kawasaki supports our customers' needs to automate their production lines and improve productivity. The application examples on this website are but a fraction of Kawasaki's vast robotics experience.
EP180 Robotic Palletizing Workcell
The CP series palletizing robots feature industry leading cycle times, a broad motion range, a space and energy saving controller, and easy-to-use palletizing software to program the robot's operation. The robots drive the flexible automation of end-of-line and distribution processes in a wide range of industries, and support the highest production line efficiencies. With the lightest maximum payload capacity at 180kg (396lb) , the CP180L model's throughput is the highest of the CP series palletizing robots at 2050 cycles per hour with a 130 kg (286lb) payload or smaller. The payload includes the tooling PLUS the product.
Tooling ranges in weight from light to heavy for the BTS robotic palletizing workcell. If you use the 2-zone vacuum gripper, this tooling weighs approximately 80lbs. Our single zone bag gripper tooling weighs approximately 70lbs. our 2-zone magnet gripper tooling weighs approximately 140lbs or more depending on the features you require.
Call us for more information (855) 762-6899
Or send email to support@calrobot.com
Price installed $99,900.00 plus tax and shipping
If you need the BTS Economy Robot Palletizer Workcell with Kawasaki CP180L, we can assist you in deciding how best to integrate that robot into your business. Our robots come ready for a host of features and tooling. At BTS, we design and program many unique machines designed for many types of applications.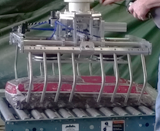 OPTION: Clamshell Gripper for the product bag is is intended to pickup and palletize. The clamshell gripper must have a special type of conveyor so it can get below the product.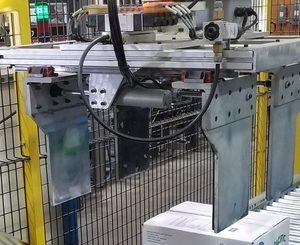 OPTION : 2-zone Flat Side Gripper. This gripper picks boxes and can stack them very tightly against one another. We have single and triple grippers as well.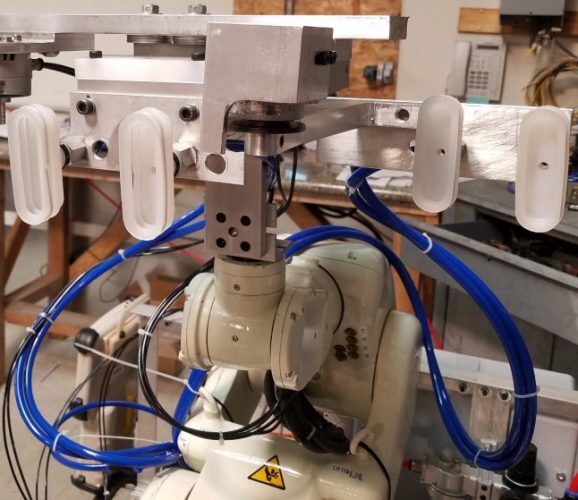 Compound Vacuum Gripper for palletizing is used when an upright position is required of the product. This tooling surrounds the product and holds it vertical.
BTS Economy Robot Palletizer Workcell with Kawasaki CP180L
EP180 Price: $99,900 plus shipping and tax
Download the short sales brochure for EP180 economy palletizer
Download the full brochure for EP180 economy palletizer
View the CP180 on our shopping website
A word about where you mount the base of your robot and what is required
Heavy items generate high moment (torque) forces and the weight of the robot plus the tooling increases the torque on the robot mounting structure (called moment). Poorly mounted robots can detach from the concrete and possibly tip over. Maintenance and Inspection are very important in this regard. The surface you mount the robot to is required to be strong enough for the forces the CP180L robot produces at the astonishing speed of 2080 cycles per hour.
The robot base is a very important piece of the machine in that it manages the torque generated by the robot movements as well as elevates the robot to the optimum height above the work.Optimum height for a robot is a calculated area where the robot is able to achieve the designed speeds of the robot. The 3636 Base is best. For example, we use the Kawasaki CP180L in this application both for its reach and durability, but also for its speed. At the designed height, the Kawasaki CP180L can move 1800 cycles per hour at standard speeds with large loads. With 130kg loads, the CP180L can move at an astonishing 2050 cycles per hour. The limitations have to do with many factors including the strength of the concrete where the base is mounted. if your concrete floor will not support our 3636 Base, we can build the mounts larger to spread the load out or integrate the robot base into the equipment in the area.
5,619 total, 1 today