Electrical Contractor
INDUSTRIAL ROBOTS

FACTORY AUTOMATION
Welcome to Bransom Tech Services
We are a licensed electrical contractor, designing and building robotic and automation solutions
Electricians, Robots and Automation for your business
BTS Adjustable Bale Kicker
bk100-2717 Bale Kicker for transitioning vertical bales to horizontal
Custom built side gripper for boxes or bales
We manufacture and build a variety of machines here at BTS. When you are in the automation business, it is important that you are able to modify equipment to improve the process. In this case we designed and built a Bale Kicker to transfer the rice hulls from vertical to horizontal.
All of this is part of a palletizer we are installing for a local company that makes fifty pound bales of rice hulls for wine making, absorption and many other things
Call 855-ROBOT-99 for information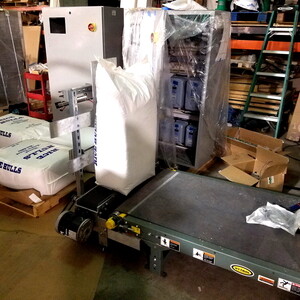 Here we have attached the Bale Kicker to a 32 inch wide slider bed conveyor. Typically the bale has just arrived from the sealer.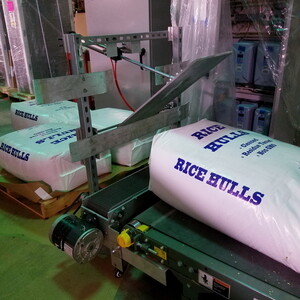 An air cylinder tips the bale over onto the slide belt conveyor where it is picked by a palletizing robot and placed on a pallet.
Bale Kicker for transitioning vertical bales to horizontal
Dual action cylinder with cushion stop
2×4-Way solenoid valves. Sol1 for Kicker, Sol2 for accessory
Machined cylinder mounts and flange bearing for long life
The modular design makes this tool adjustable to fit any style of bag or bale
This kicker designed to move the product from vertical to horizontal

Here we have it mounted to a Hytrol Slider Bed conveyor
Each unit is repairable and modular

Side shifter is on wheels to facilitate maintenance
Adjustable brushes on each side will cushion the fall and center the bale
21x28x12 50lb bale is shown after being kicked onto the conveyor
Side shift motor speed is adjustable to match existing conveyors
Smoothing guides to make sure the bale enters the kicker without getting hung up
Corrosion-Resistant Tight-Seal Brush, 5/16″ Wide x 5/16″ High Backing
Brushes are 6″ Overall Height, 0.045″ Diameter
Each brush unit is repairable and modular

Unit can move as a complete unit. Here is ti shown on a forklift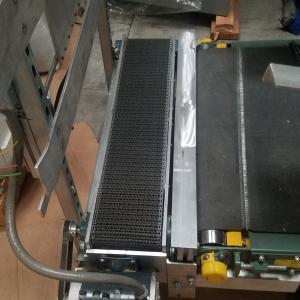 Adjustable brushes shown on the right
Bale velocity is slowed down by brushes, minimize distortion
Machined adjusters move up or down PLUS in and out
Slotted brush holder uses a single retaining clip
Standard uni-strut mounted to Slider Bed conveyor
Side shift motor pictured bottom left.
Angle of brushes can vary to accommodate any bale size
Uses existing holes in slider bed conveyor for mounting